Accessibility has quickly become one of the fundamental website requirements which clients rely on their digital agencies to provide. In order to supply the highest level of coverage and accuracy, it is important to have access to a tool which will not only highlight accessibility challenges on mass but also demonstrate the progress which has been made to meet accessibility standards. Giving clients peace of mind and strengthening the trust between agency and client. 
Little Forest partners with agencies to provide a unique automated accessibility for agencies solution which allows you to understand your clients current accessibility compliance and quickly strategise the work ahead. We work with large and small agencies all over the world to provide automated testing across all major web accessibility standards including; W3C WCAG A, AA & AAA and Section 508. 
Step 1) Whitelist with your Branding
Our platform is fully customisable so that you can give your clients a seamless experience with your brand. Add your logo, create a personalised login page and use your branding in the domain. Provide automated accessibility reporting directly to your clients by giving them direct access to their sites or export data to share with them, our platform provides complete flexibility to meet your needs.

Step 2) Manage your Clients
What makes the accessibility agency market unique is the need to create projects for each client which are simple to navigate and set-up. Little Forest has designed a basic repeatable process which means you can get all your clients integrated easily. We train your team so they can set them up and self serve within the platform, growing your database over time. Set users up with different access levels and permissions to the content and capabilities which you can control.

Step 3) Accessibility Auditing
Run your clients full site in seconds to capture every error, warning and notice so you can demonstrate their compliance level. Monitor across a whole site or zoom in page per page. Alongside a code based report for your IT Team and Designers we have also created a visual inspector which shows editors simple content errors on the page with a description of how to fix them. We categorise them into; Headings, Missing Alt Texts, Colour contrast etc to help users know exactly what they are looking at. We at Little Forest aim to make working on accessibility accessible to all our users.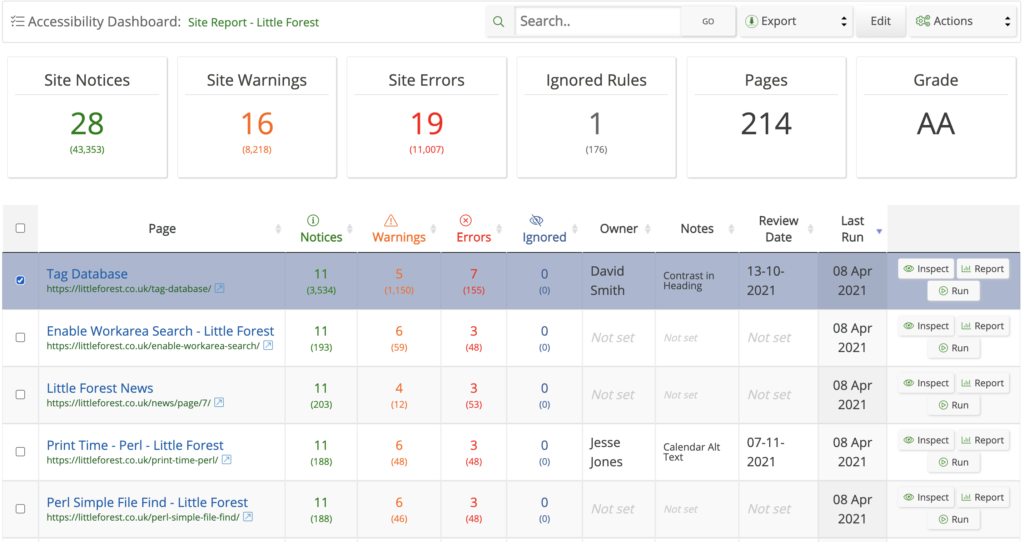 Step 4) Accessibility Strategy
Everyone is looking for quick results and agency clients are no different when it comes to web accessibility. Little Forest helps you find the quick wins to show quick progress for your clients. We point out the errors which are most repeated across each site to help you make the biggest difference in the shortest amount of time. Re-run the reports as often as you need, you can do this on both a site and a page level to help your team see their progress in real time.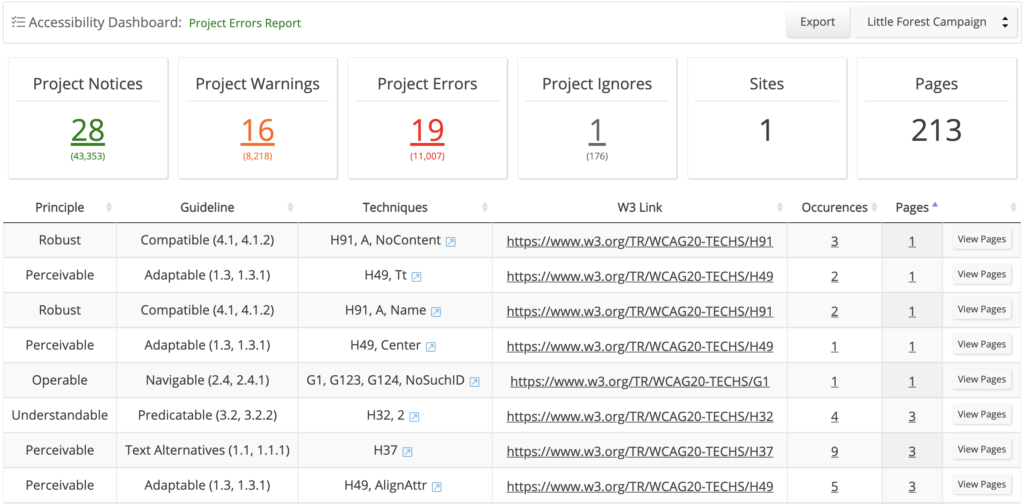 Step 5) Digital Quality
There is more to digital quality than just accessibility which is why we also monitor web governance and SEO challenges like; broken links, images and PDFs to missing headings, spelling errors and large images. All our platform features are included in our agency licences with no hidden costs. Get the most from your platform with Little Forest.