Little Forest is an all-in-one Accessibility and Digital Quality platform which has been developed specifically to meet the needs of Universities. We work with you to provide the millions of hopeful students, current students and key stakeholders with a digital web estate you can be proud of, through University Web Accessibility monitoring.
Each year the need for universities to become accessibility compliant increases. In September 2020 it became a legal requirement in the UK following the US and is closely followed by the rest of the world. With this growing demand it's important to find a platform that understands your needs and follows the W3C WCAG A, AA & AAA guidelines.
Step 1) Domain Audit
Universities present a unique accessibility challenge because they often have 100's or even 1,000's of domains in their web estate. Here comes the bad news. It's not just the main site which needs to meet the AA accessibility guidelines, it's every site owned by the university. Which is why we start every university web accessibility journey by first working with you to create a Domain Registry to capture all these sites. You can then mark each site with a site owner or decommission the sites which are no longer required. We call it the digital cleanse.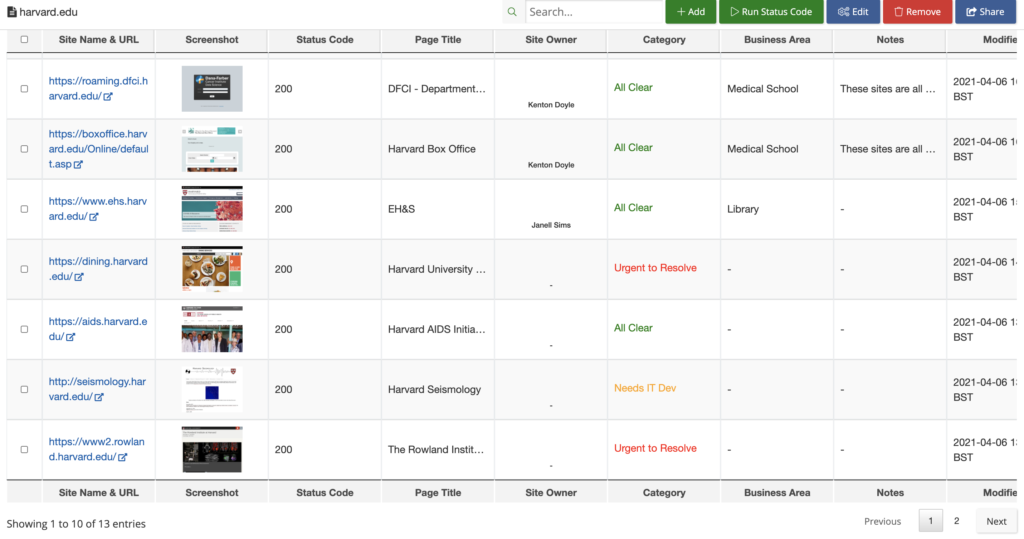 Step 2) Accessibility Auditing
Now that you have your Domain Registry it's time to start your automated accessibility testing. Our university licence is an all you can eat offering in which we will support the auditing in every site in your universities web estate. It's the only way you can truly say you meet compliance. We run each site in an independent check, scanning all the pages in seconds to understand the errors, warnings and notices for each page. You can rerun a whole site or page on demand watching the graphs over time demonstrating the progress made by your team. 

Step 3) On-Page View
We know that Universities have a huge pool of content creators and editors who are contributing to the sites which is why alongside a code based report for your IT Team and Designers we have also created a visual inspector which shows editors simple content errors on the page with a description of how to fix them. We categorise them into; Headings, Missing Alt Texts, Colour contrast etc to help users know exactly what they are looking at. We at Little Forest aim to make working on accessibility accessible to all our users.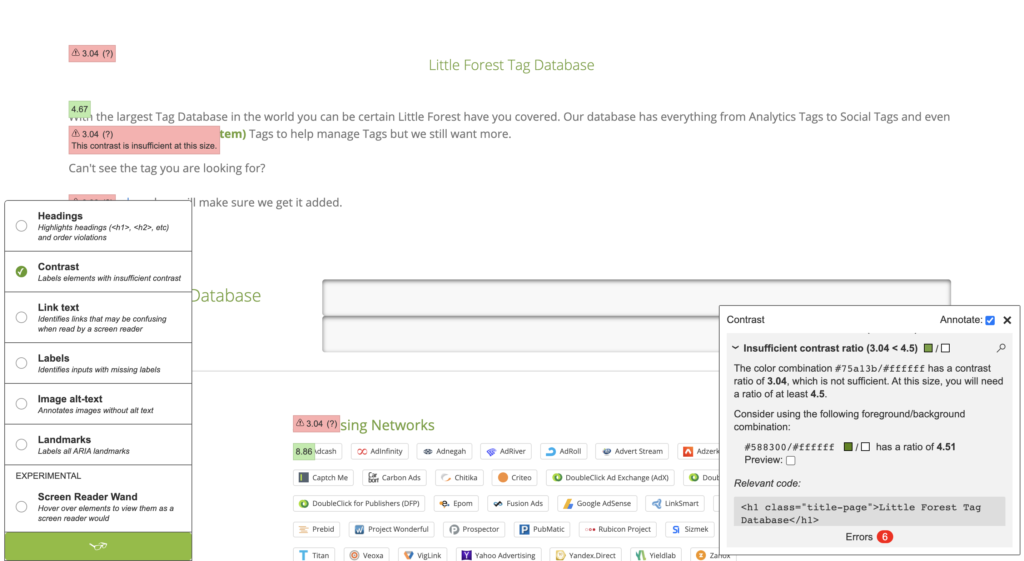 Step 4) Accessibility the Bigger Picture
Quick wins are the best way to start your accessibility journey. Find the errors which are most repeated across a site so you can make the biggest impact in the smallest amount of time. Little Forest has a unique view for each site which will tell you the errors repeated across the most number of pages and the total number of occurrences for those errors which appear multiple times across a page. Giving your teams a headstart to the race for accessibility. You can also benchmark your sites against one another to compare their compliance and understand your web estates accessibility as a whole.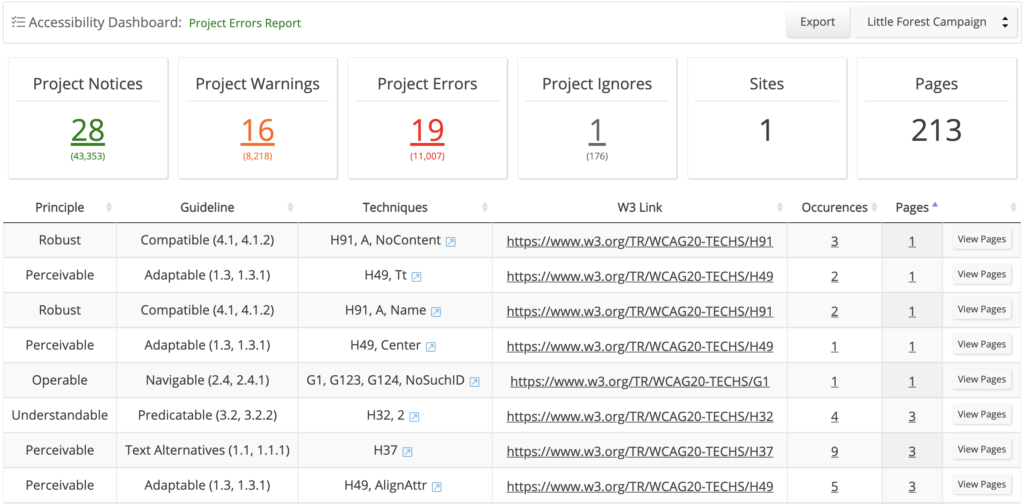 Step 5) Accessibility Training
Need help getting your teams on board and trained in accessibility? Little Forest offers tailored university web accessibility training which can be customised to meet the technical structure of your universities teams. Real time examples of errors from your sites and how to fix them alongside insights on area's like PDF's, word documents and how to get those accessible for your users. You can see a full list of our accessibility workshops here. We also partner with trusted agencies who offer manual testing with disabled users if you are looking to go a step beyond automated testing and get a full accessibility solution. 
Step 6) Digital Quality
Your websites are a direct representation of your university which is why our platform also looks at your digital quality as a whole. Accessibility is one piece of the puzzle but Little Forest also looks at your web governance from areas like; broken links, images and PDFs to missing headings, spelling errors and large images. All our platform features are included in our university licences with no hidden costs. Get the most from your platform with Little Forest.