Overview
Leads and conversions are the most crucial track events in any business, tuning into these metrics can mean the success of your organisation. Little Forest integrates with your AdWords giving your users fast access to the latest data in real-time and the ability to benchmark ad campaigns against each other. Make checking your clicks, impressions and click-through-rates part of your digital teams daily routine. Maximising on positive trends and spotting crucial errors as soon as they arise. AdWords made accessible to the whole digital team.

Google AdWords Across Multiple Sites
For organisations with large web estates made up of multiple sites, owners and marketing teams it's hard to get fair and accurate benchmarking across their AdWords platforms. Which is why Little Forest provides a custom view which presents all of your sites insights in one easy to filter and search table. Simply group your sites into a project and look at which are performing best and which require urgent attention.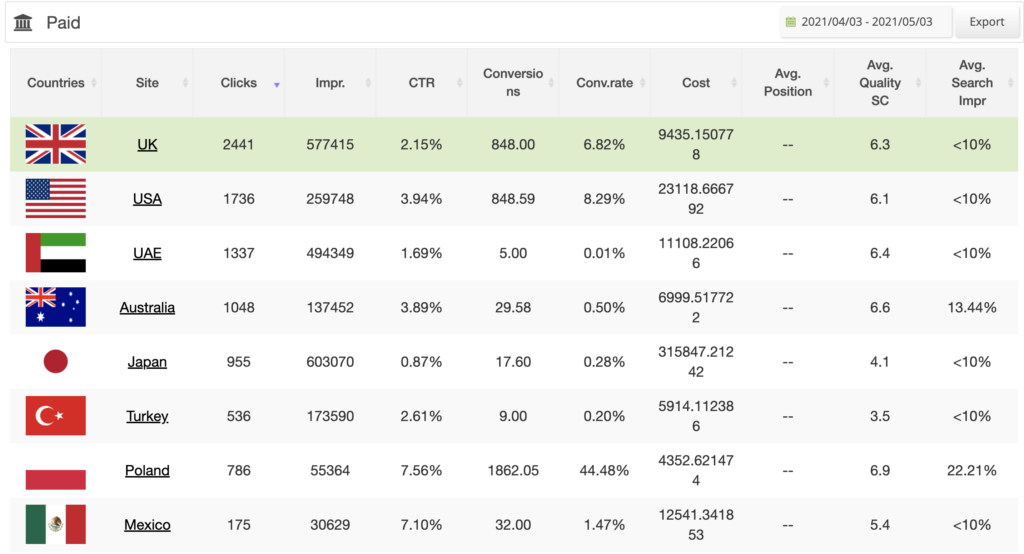 Digital Quality index Scoring
Make AdWords part of your sites overall quality tracking by including paid metrics in the Little Forest Digital Quality index Score. Understanding how your site is performing overall has never been easier as following one single score over time. Include data like; Conversion Rates, Average Position, Click-through-rate and more. Customise the weighting (percentage effect on the score) to your organisations requirements keeping your team on the right track. Benchmarking also encourages gamification with teams, markets and site owners striving to stay ahead or in line with the best performing sites.

Access to Insights
Access to data is the most important resource to every member on the digital team. However, giving every marketer, editor, owner and developer access to every Google AdWords account is generally not best practice. By plugging in your Google AdWords to the Little Forest platform you are giving every member of your team access to data without any risk of user error. The data is also presented in easy to understand dashboards so they are easy to read for users without experience with Adwords or marketing experience.
Google AdWords Habits
Little Forest is not a replacement for your Google AdWords reporting but instead a flagging system for your users to spot challenges and monitor basic trends effortlessly. We are always striving to create the digital quality habit with users logging into the platform several times a week to track their sites. With more users seeing your Google Adwords paid data on a daily basis you are more likely to spot and resolve an error as it arises, bringing additional security to your organisation.
One Platform
Little Forest understands that monitoring digital quality is different for every company, which is why we focused on building custom enterprise integrations based on our customers needs. The Google AdWords integration brings one more data source into your quality reporting minimising login fatigue and the need to consistently switch and login to multiple platforms.