Overview
Your content is a direct representation of your organisation, so it is crucial you know exactly what you are presenting online. Most large organisations like; Universities and Multinationals can have dozens, even hundreds of websites that they are unaware of. Often these old websites are not compliant with brand, security and regulatory guidelines like privacy and accessibility. Take control of your full web estate and ensure your users get the experience you want from your websites with Little Forest Domain Discovery. 
Horizontal Domains
As part of the Little Forest Governance service we can perform a complete audit on all your domains. We start with a horizontal domain audit which looks for all the unique domains owned by your organisation, for example "yourwebsite.com" and "yourwebsite.co.uk", which are both registered in the Whois database to you.
Vertical Domains
Once we have found all of your horizontal domains we audit each one to find all the vertical subdomains each has, for example "yourwebsite.com" and "test.yourwebsite.com".
We use a variety of sources to ensure we find as many subdomains as possible,including; search engines, DNS Records, SSL Certificate data.
Your Domain Registry
Having a centralised domain registry is critical for any organisation to have full visibility and control of their web estate. Alongside a list of the domains you can start organising by assigning; site owners, faculties or business areas. You can categorise them by CMS or host so you have a complete record of infrastructure. You can also mark sites which need to be updated or decommissioned using Little Forest notes. Status codes and governance insights from the platform can help you decide which sites need to be closed down and which need prioritisation.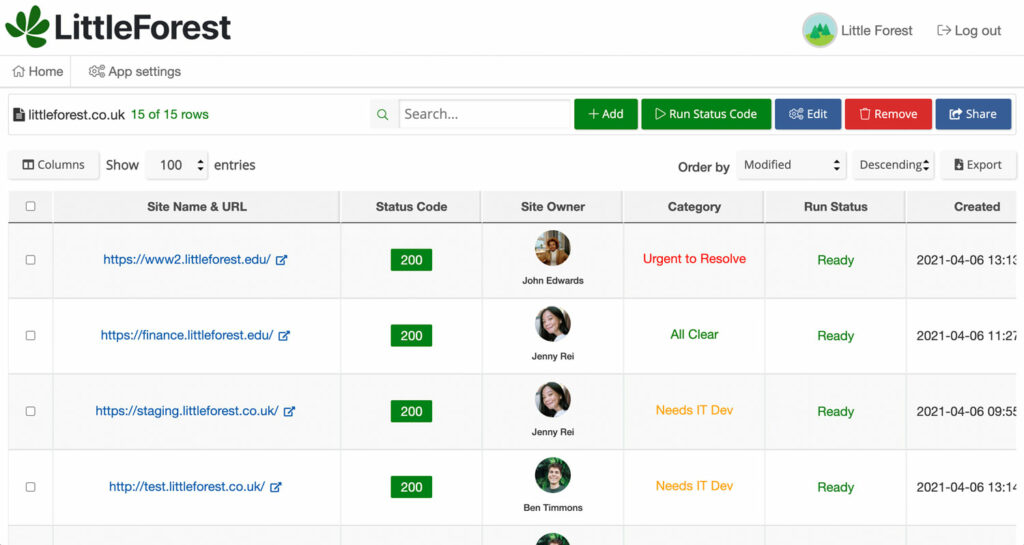 Ownership
Mark each domain with a site owner so you know exactly who is responsible for each website or who to contact in the event of an issue. It's also key for those sites which may have slipped through the net, as it means they are put back on the radar and are actively being held responsible for. With legislation like WCAG accessibility all of the sites in your organisation are required to be compliant, not just the main site so assigning site owners to manage implementation is imperative to meeting those requirements.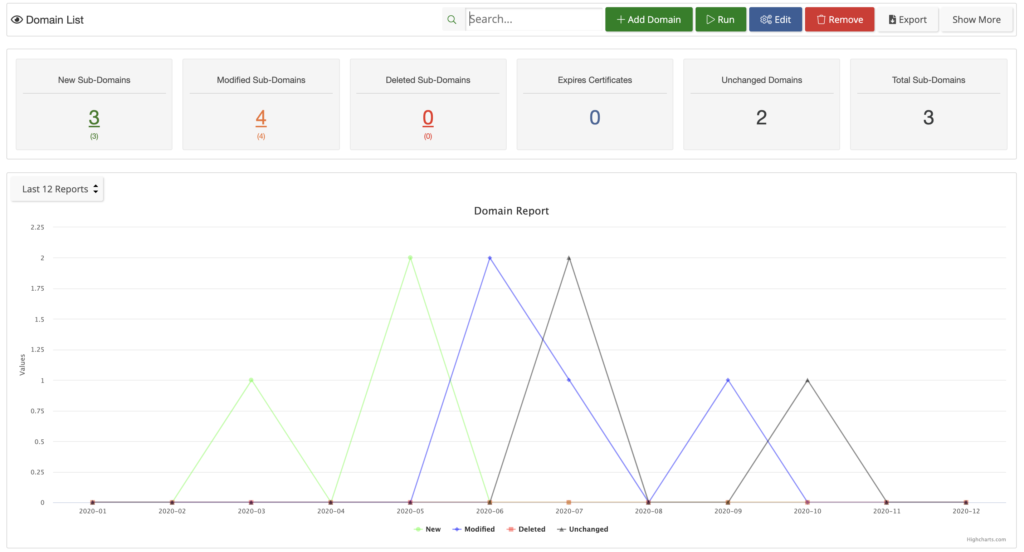 Domain Discovery Alerting
Get notified as soon as a new domain is set-up under your subdomain or is registered to your organisation. Monitor which sites are not performing as expected and get alerted when a site is not responding. Schedule and run the reporting regularly across all of your sites to understand their quality, performance and accessibility levels over time.
Small but mighty, this feature won an award within its first year of release. A domain registry you can be proud of.