Overview
Having digital quality and accessibility tools like Little Forest is a great start but getting your users to utilise them is a challenge of its own. Single sign-on (SAML SSO) access is key to getting user engagement from your organisation. Allow easy secure access so users can get the data they need easily and form quick digital quality habits with regular visits. Little Forest uses your existing SSO service lowering the number of vulnerabilities which occur with having multiple logins across different tools and websites. Make Little Forest a fundamental digital quality destination for your users. 
Instant Access
With a lower barrier to entry your users can sign-up and request access to the Little Forest platform instantly and with ease. Simply set the access levels for user and admin requests and they are ready to get started on their digital quality and accessibility journey. Large organisations have a clear view of who needs access and can grant users on-the-spot access to the Little Forest platform. Your organisation can limit, extend or remove users at any time with full control of what data is available to different users. User onboarding made easy with streamlined workflow.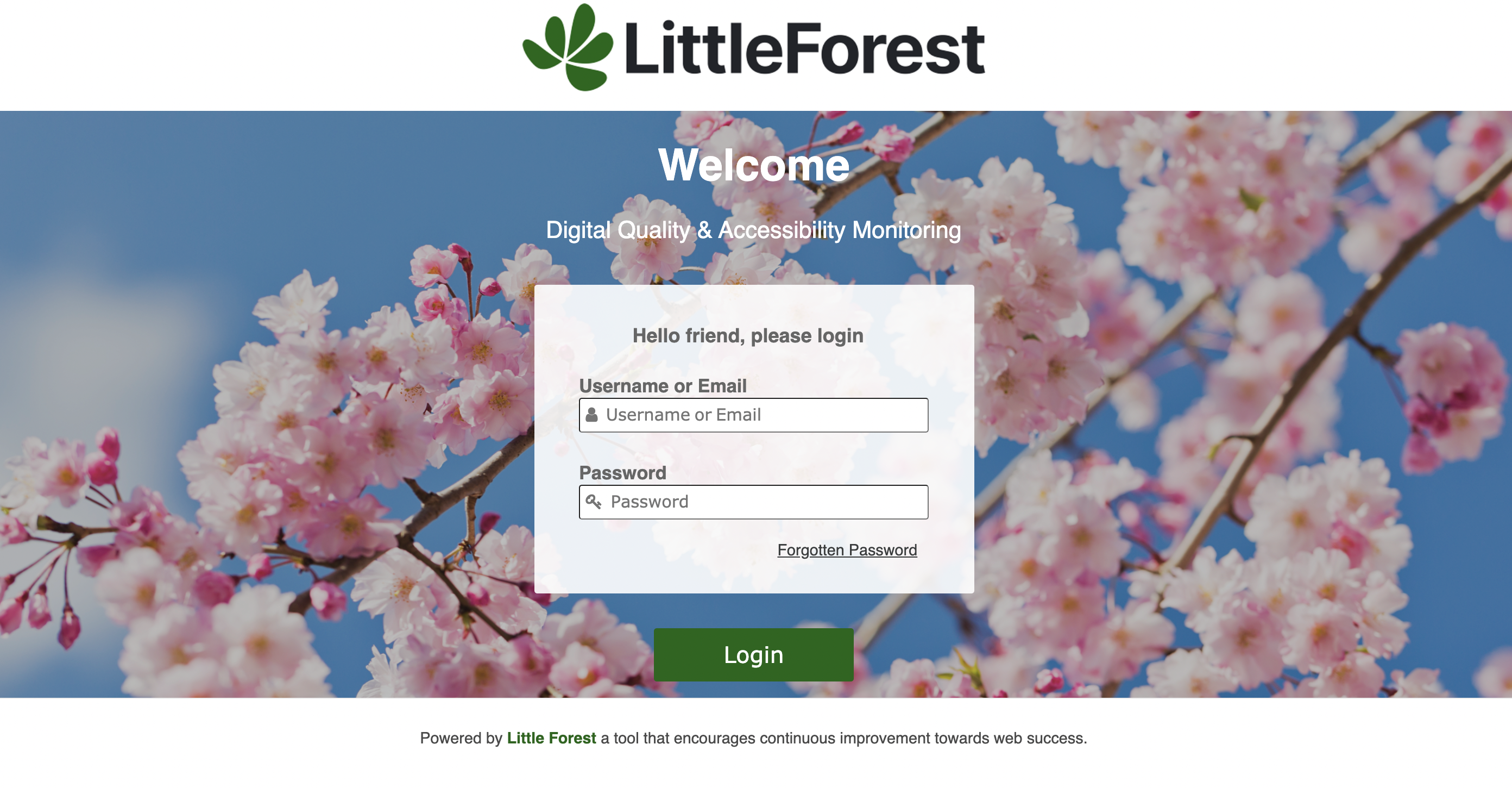 User Experience & Trust
There is nothing more valuable than user trust. Users that trust brands or tools are more likely to actively engage with them. By using SAML SSO Little forest users instantly feel secure and can instantly connect with the platform. With individuals using upto ten apps and platforms an hour, single sign-on improves productivity and removes distractions like looking for logins meaning they have more time to engage with the Little Forest data. Users can get rapid high level digital quality and accessibility insights and improvements, encouraging them access the platform more often, creating great web governance habits. 
Reduce Password Fatigue
With users being signed up to dozens of sites and platforms both for work and personal use it's impossible to securely keep track of all their sign in information. Make accessing the Little Forest platform simple by implementing SSO so they don't have additional login credentials to remember. Lower the number of usernames and passwords your users have to remember whilst also reducing the vulnerabilities for your organisation.
Eliminate Password Management
Alleviate IT effort by reducing the number of possible lost password opportunities. It's far easier to remember a single password and will save time for your internal teams. SSO eliminates the possibility for creation errors like misspelled emails or passwords so users shouldn't have any blockers in accessing the Little Forest platform or reasons to contact IT.
It also lowers tasks when employees leave the organisation as IT only have one set of logins to remove.
Increased Security with SSO
With only one username and password to remember users are incentivised to create stronger passwords reducing their risk to the organisation. Having additional tools and platforms always presents added vulnerabilities, however you can get peace of mind knowing that Little Forest are not storing additional personal information beyond the SSO. Improved security for your organisation's users whilst using Little Forest.