Overview
Accessibility is incredibly important for the future of digital and although an easy concept to understand, the implementation can be tricky. For many organisations accessibility compliance is already a legal requirement which is why it is so important to make sure you have the tools and expert advice like our Full Accessibility Service in place, to meet the WCAG AA guidelines. 
There are three stages to meeting full accessibility compliance, firstly we recommend automated reporting as this will help you cover a large proportion of errors without the high costs of manual testing, this needs to be followed by a manual testing phase to cover off all guidelines which automated reporting can't test for and finally training through workshops to keep the site compliant in the future.
Accessibility as a Full Service
Little Forest Accessibility as a Full Service means you have all of your accessibility needs met in one place, making it easy to manage, affordable and giving you peace of mind. This includes all three stages; Automated Accessibility Reporting, Manual Accessibility Auditing and Accessibility Workshops.
Automated Accessibility Reporting
Automated testing is necessary as it will quickly identify thousands of errors which do not meet the WCAG success criteria, meaning you can quickly resolve errors without having to check every page, container and element individually. However, there are many errors which require human evaluation and can't be replicated via computer for example; assistive technology testing, plugins and keyboard commands etc. 
Automated testing is an incredible foundation for accessibility but only tracks between 30-40% of the required guidelines. This is the same for all automated tools including our market leading competitors. See all of our automated accessibility features here.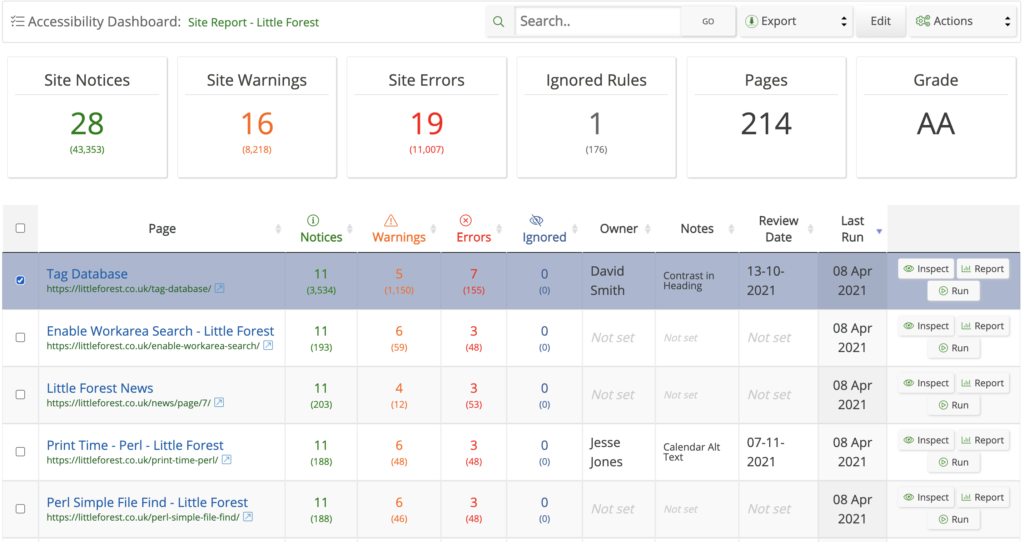 Manual Accessibility Auditing
To get fully accessibility compliant a manual testing phase is necessary, which is why we provide you with the best Accessibility Consultants who are dedicated to creating accessible and inclusive experiences for your users. Your personal Accessibility Consultant will work with you to audit the components, pages, pdf's, documents and any other web based content you have online.
As well as using our Consultants at the start of the accessibility process, you can also use their expertise when planning new development projects in the future in order to keep compliant. By first working with the automated reporting you will be able to keep the manual auditing costs lower and focus on the trickier to handle guidelines. Learn more about Little Forests manual testing here.
Accessibility Workshops
Little Forest understands that whilst working on your accessibility your digital teams are likely to still be making changes and uploading new content, which is why it is really important to get everyone trained on how to start creating accessible and inclusive content, so that you won't have to keep going round in circles uploading and then fixing errors every time a change is made.
Get your whole team on the same page with personalised accessibility workshops which will walk through accessibility fundamentals as well as complex topics which you would like us to take a deeper look into. Take a look at our full list of workshops here.
Get in touch to speak with one of our Consultants and see if the Little Forest Full Accessibility Service is right for you.