Overview
It's more than just spelling it's language. First impressions matter and we all know how bad it looks when a website is littered with misspelt words. Ensure your site is giving users the correct message so they can feel confident in not only your site but your brand too. Silly little mistakes may seem insignificant but can have a huge effect on the reader. Avoid any awkward mistypes by scanning all your text for typos, grammar problems and structural challenges.
Full Site Auditing
Unlike many spell checking tools Little Forest scans your entire site with one simple click. Checking all content including; titles, descriptions, RSS feed and more. Quickly understand how large the problem is with an overall spelling errors figure. This way you can delegate time and resources appropriately to getting the figure reduced. Once the errors have gone down, it is super easy to manage new content errors as they arise.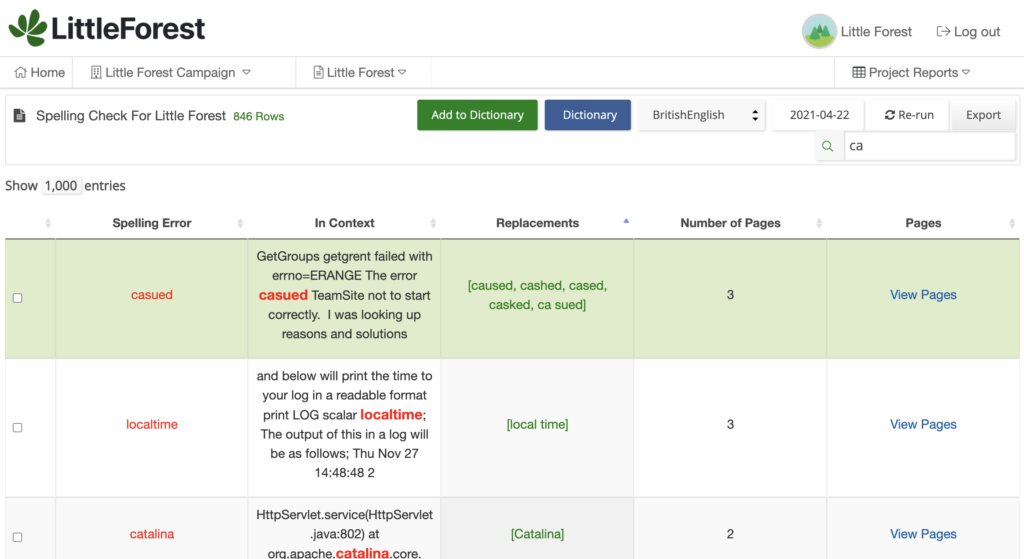 Errors & Suggestions
Look at all your URLs with spelling suggestions in one view, understanding how many errors feature on each page. This way you can see which pages are highest priority and what areas of the site are the lowest quality. Little Forest gives you suggestions of how to amend spelling errors alongside an option to add to your custom dictionary. Filter columns and export and share with your team with the click of a button.

Spelling Dictionary & Multi-Language
Add words to your own custom dictionary to help pinpoint the true mistakes, like perhaps; a product name or colleagues name. Once the report is re-run, all these suggestions will disappear leaving only the errors. You can review the dictionary any time for peace of mind that nothing has been missed. Little Forest also has a large database of global languages so that if you have different sites in different languages you can choose the appropriate language and know you are covered.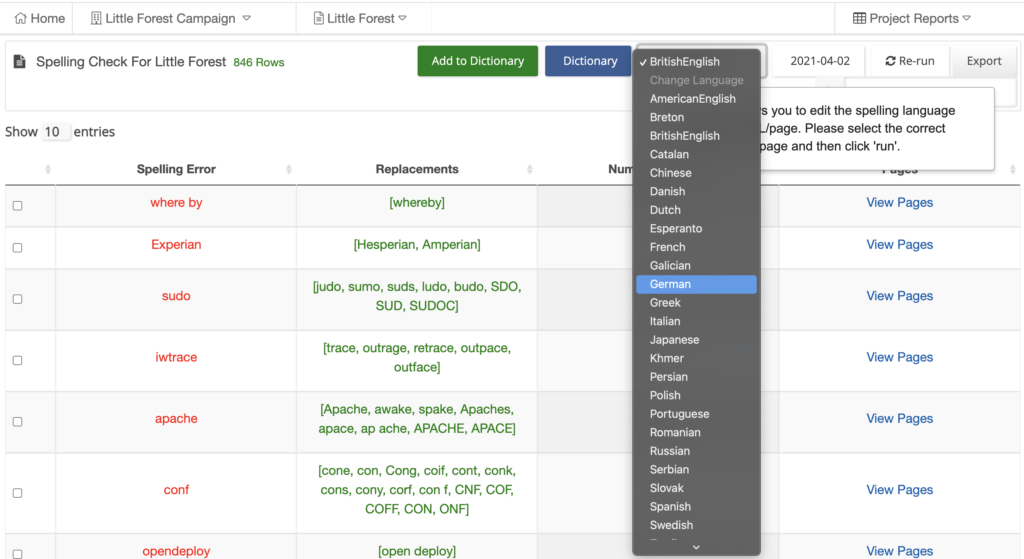 Regular Monitoring
Getting down to zero errors in an incredible accomplishment but staying there is even better. Keep on top of new content with regular scans helping you feel secure. Set automated scans to run weekly or run on demand as often as you need. You can run the full site or run a single page instantly for complete flexibility.
Compare Sites & Average Number of Words
You can compare your spelling across multiple sites in an instant. Different languages, different sizes, no matter the site you can benchmark it against other markets. You can also compare the average number of words per site to get an idea of content saturation.
Getting to grips with the spelling and language of your sites has never been easier.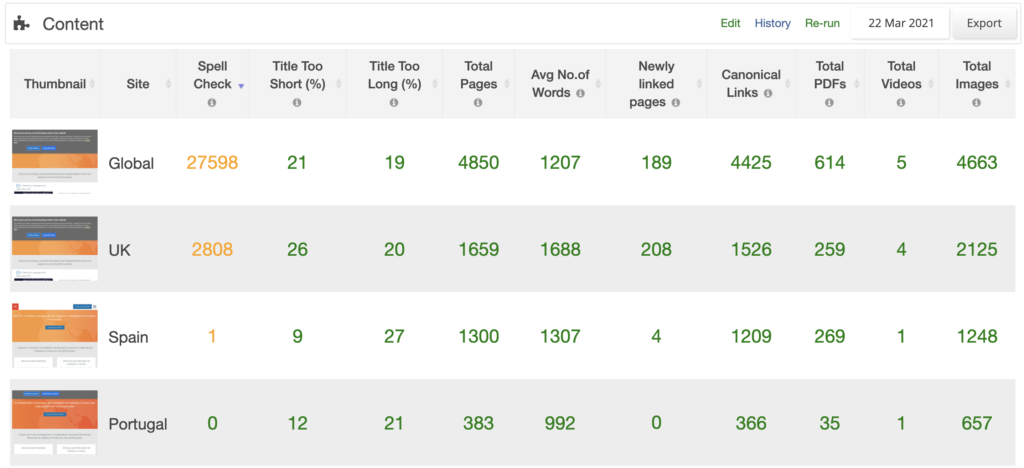 Language List:
American
Angola
Australian
Austrian
Bosnian
Brazilian
Breton
British English
Canadian English
Catalan
Chinese
Croatian
Danish
Dutch
English
Esperanto
French
Galician
German
Greek
Italian
Japanese
Jekavian
Khmer
Montenegrin
New Zealand English
Persian
Polish
Portuguese
Romanian
Russian
Serbian
Slovak
South African English
Spanish
Swedish
Swiss German
Tamil
Ukrainian & more
Want to monitor language across multiple sites? Speak to our team about multinational monitoring today!