Overview
The Little Forest Web Scraper gives you the ability to perform precise, accurate data extraction across your site. It's instant reporting means you can get the information you need, when you need it. With custom scraping you can look for any data type being tracked. Web scraping is vital for all digital teams from development & UX to marketing, it gives you the tools to plan, strategise and make the best decisions for your web estate. Eliminate data quality challenges and use faultless data to meet your business goals. 
Full Stack Scraping
Dynamic data has a reputation for being tricky to audit but with the web scraper you can extract from every data layer with ease. Little Forest offers unique full stack scraping which alongside front-end data also extracts data from the back-end. Instruct the web scraper on the specific selectors which can be found in the elements in your source code. From products, performance and analytics to content components, images and dates, if you track it the web scraper can find it.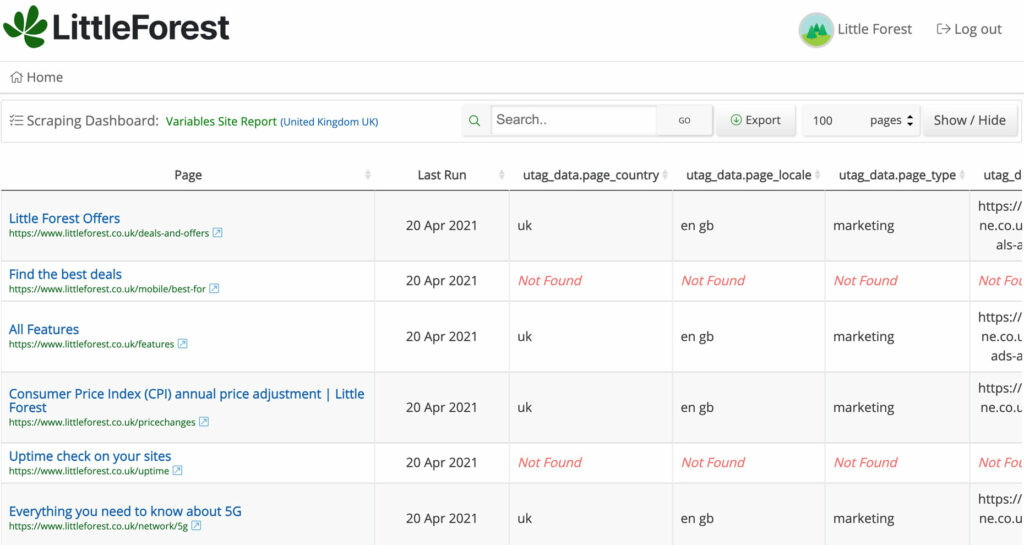 Clean Data Layers
Essential to both marketing and digital strategy data layers are the JavaScript infrastructure which use selectors to house all of your tag and variable data from; behaviour and journey to e-commerce transactions. Incredibly complex and time consuming to create means having visibility and the ability to update efficiently is crucial for their upkeep. Control the values being tracked and monitor your sites events e.g. users clicking a call to action.
Data Quality & Consistency
With each page individually being tracked and housing numerous variables it is important to be able to audit and ensure that your pages are all capturing the required information, on a regular basis. Creating a clear uniform structure of your data layers gives your marketing team the tools for clear digital strategy based on real time data. Know that you have the correct tag values and remove old legacy data which could have a negative effect on your user experience or site performance for content freshness.
Multi Site \ Competitor Scraping
Alongside single site scraping you can compare data across different sites looking at which countries, languages or markets are most successful to help push the whole web estate forward. Compare lead generation, product monitoring, brand monitoring and more. You can also use the web scraper to look at competitors data for business intelligence and retail monitoring across products or services to help stay competitive.
Code Search
Alongside full stack web scraping you can also perform simple code searches using a simple phrase match. Track down specific words, phrases and code snippets with the Little Forest Content Search. Has a product been discontinued? A member of staff left the organisation? Or a Google Analytics property ID changed? You can instantly search every page to see where you need to update your content.